Information




human-friendly,
harmless waterproof material
waterproof finishing
paint material
We are the pioneers in developing polymer-modified cementitious waterproof coating materials.
Our excellent technology supports the creation of the required environment for modern society.


Ozeki Chemical's PARATEX waterproof materials are known to be human-friendly, harmless waterproof materials and have obtained considerable support from customers.

As a pioneer of polymer-modified cementitious waterproof coating materials, we have been one of the leading companies in the business for more than 50 years.

We have passed a number of environmental regulations and standards, and our technology can be found throughout everyday life. Our excellent technology and work have been proven by the SPring-8 research, and we also take part in other advanced research projects.

We are dedicated to the development and creation of environmental technologies that modern society requires.
Environment
Paratex and other products are adapted to a new regulation against formaldehyde as well as to the water universal quality standards that the Japan Ministry of Health, Labour, & Welfare require of all waterworks.
Adapted to VOC regulations in Japan's Building Standards Law
Adapted to Japanese Ministry of Health, Labour, and Welfare's Act5
Technology
Paratex waterproof materials provide excellent waterproof effects by their unique self-closing waterproofing. Because Paratex is made of liquid emulsion, it is safe and harmless to other creatures as well as to the environment. The effects of Paratex were also found excellent by the SPring-8 research and are also highly evaluated for its dedication to society.
Won a Spring-8 prize
Won a Director-General of the Science and Technology Agency'sprize
Participation in the Local-Focused Cooperative Development Project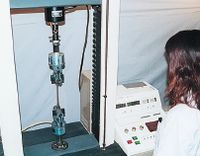 Our Works
Because Paratex is known for its harmless, excellent waterproof effects, it has been applied to the construction of water and sewage facilities, roads, public buildings, and other facilities. Moreover, Paratex has received considerable support not only from within Japan, but also internationally .
Kansai Electric Power's 3rd and 4th power plants in Takahama
Tunnel in Nerima, Tokyo
Participation in The International Exhibition for Construction Waterproofing in China