"PARA-EASY" - Waterproof Finishing Paint Material
It enables a smooth and comfortable painting workflow.
PARA-EASY functions as a waterproof material as well as overcoating. PARA-EASY helps shorten the period of construction work for One-Day method that does not require overcoating. It is also ideal for repair work.
Advantages
Paraseasy is easy to use with a brush, roller, and spray. It dries very quickly and since it does not require overcoating, PARA-EASY enables a shorter period of construction work.
It forms flexible layers that can cover a crack occurred in any part of the foundation.
PARA-EASY is water-resistant as well as dirt-resistant, making it easy to wash the surface. It also has excellent slip-resistance.
PARA-EASY has four different colours which naturally match surroundings.
Because PARA-EASY has high durability, acid-resistance, alkali-resistance, weatherability, and adhesion, it can provide long-lasting waterproof effects.
PARA-EASY will never cause a fire or poisoning as it is made of aqueous materials, so it is safe to use it in inhabited places for renovation work.
Standard specification

How to use
Foundation work
Scrape away dust, laitance, or anything sticking to the surface which may cause mal-adhesion.
Primer-Painting
Dilute Primer AP with three times as much water (Primer AP : water = 1 : 2, weight comparison), and paint it on the surface uniformly with a brush or roller.
Waterproof
Material-Painting
Add 9 kg of Para-easy Powder to one can of Para-easy Liquid, and mix them well by using an electric mixer. After mixing, paint it on the surface uniformly with a roller.
Note
the tone of colour may change when the ratio of Para-easy Liquid to Para-easy Powder differs. Make sure that you have mixed the right amounts of the materials.
Colour tone
| | | | |
| --- | --- | --- | --- |
| | silver gray | | natural |
| | tera-cotta | | earth green |
*The colours displayed above may look different from the actual colour due to printing limitations.


Technical data
PARA-EASY Liquid
| Property | Results |
| --- | --- |
| Apprearance | colouring viscous liquid |
| Component | special resin emulsion |
| Solid content | 512% |
| Viscosity | 10,0002,000mPa.s (30) |
| pH | 8.01.0 |
| Net / Package | 15kg / can |
PARA-EASY Powder
| Property | Results |
| --- | --- |
| Apprearance | white powder |
| Component | aluminate cement, quartz sand |
| Net / Package | 9kg / Paper sack |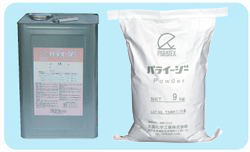 Properties of Membrane
| Property | Results | method |
| --- | --- | --- |
| Tensile strength (N/mm2) | 1.79 | JIS A 6021 |
| Elongation (%) | 100 | JIS A 6021 |
| Tear resistance (N/mm) | 11.14 | JIS A 6021 |
| Adhesion (N/mm2) | 2.65 | concrete substrate |
| Zero span tension (mm) | 1.60 | slate plate |
| Pressurized permeability | no permeability | 491kPa water pressure for one hour |
| Water penetration | no penetration | soaked into tap watter for 28 days |
| Alkali resistance | normal | soaked into saturated concrete liquid for 28 days |
| Acid resistance | normal | soaked into 0.01% of hydrochloric acid for 28 days |
| Abrasion resistance (mg) | 14.5 | abrasion test / CS-17(tapered) weight load: 1000g number of times: 1000 |
| Impact resistance | normal | JIS A 6916 |
| Temperature cycle resistance | normal | (-20x4hr, 50x4hr, 23x16hr) x 10cycles |
| Weatherability | normal | sunshine weathermeter for 1000 hours |
| Contamination resistance | normal | JIS A 5705 |
Areas of application
balcony, passageway, staircase, parapet, building foundation